Temecula Wine Tasting Tour
Friday, June 21, 2019
Celebrating Scotty's Birthday
<<<MAIN PAGE &nbsp &nbsp MAIN PAGE>>>
Scotty decided he'd like to go on a Temecula Wine Tasting Tour for his birthday. Since I also wanted to partake in the wine tasting experience, we decided to hire a driver. I had earlier discovered a company called "Your Car Our Driver" that will supply a driver while you supply your own car. It is much less expensive than hiring a limousine. At this time the cost is only about $40 per hour and that includes all costs, even gratuity. Of course you are welcome to add an additional gratuity which we do, but it is not required.
Barbara and I drove our 2016 Tesla Model X P90DL first to Gail's apartment as it was on the way to Scotty's apartment in Riverside. We first picked up Gail and then headed to Scotty's apartment. I arranged for the driver to meet us at Scotty's apartment in Riverside. We picked this sequence as we were thinking we might want to all go out to dinner in Downtown Riverside after we got back from the Temecula Wine Tasting Tour.
The driver, Shelley, arrived on time at 10 AM. We were glad to see that "Your Car Our Driver" had assigned Shelley as our driver as she is the same one that drove our Tesla Model X the last time we did a Temecula Wine Tasting Tour. Thus I knew that she had experience driving the Tesla and would have no problem with the car. Even with some traffic, it only took us about an hour to drive down to the heart of Temecula wine country.
Ahead of time I had made a list of the wineries we wanted to try to visit including the best order to visit the wineries so we would avoid backtracking and minimize driving time. I only included wineries that participated in the Priority Wine Pass Program. This program provides us with discounts at more than 400 wineries up and down the west coast from San Diego to Seattle. In most cases it allows us to do 2 wine tasting flights for the price of one flight. It also gives us discounts on purchasing bottles of wine and for winery tours. Barbara and I are each individual members so each of us can purchase 2 for 1 wine tasting flights. Thus at each winery we visited today we only needed to pay for 2 wine tasting flights and they would give us 4 wine tasting flights. Quite a savings! Between our prior visit to Temecula and this visit, we have already saved many times what the annual "Priority Wine Pass" membership cost us.
Click on each photo below for a larger image.
40620 Calle Contento, Temecula, 951-676-8231
We had an 11:45 AM reservation for lunch at The Pinnacle Restaurant at the Falkner Winery but the drive was so quick that we arrived just shortly after 11 AM, well before the restaurant would open at 11:30 AM. Since the Falkner Winery Tasting Room opens at 10 AM, we decided to do the wine tasting before lunch. We were really hoping to not drink on empty stomachs, but doing the tasting first would give us more time to visit more wineries after lunch.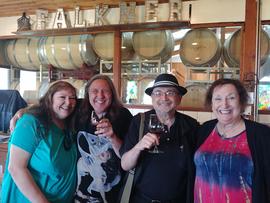 Gale, Scotty, Stephen & Barbara
Barbara loves the great selection of wine souvenirs they have at Falkner Winery.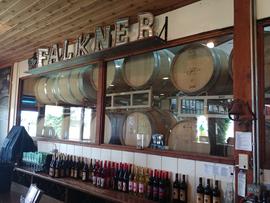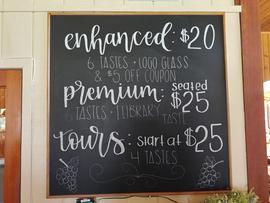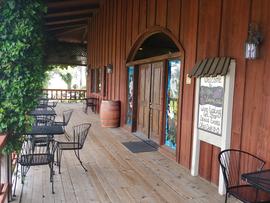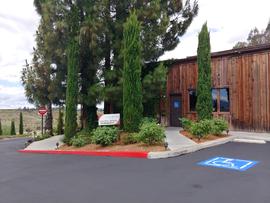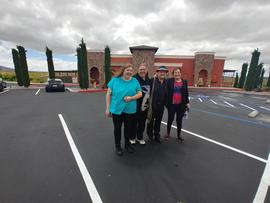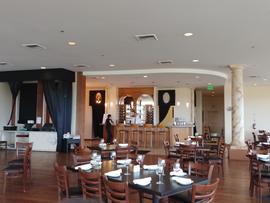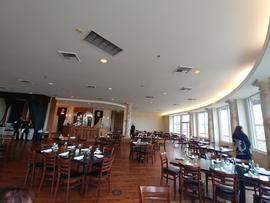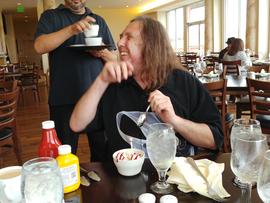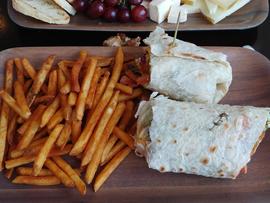 39990 Anza Road, Temecula, 951-694-6699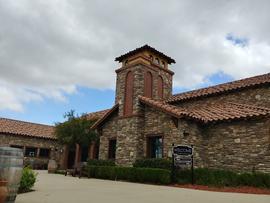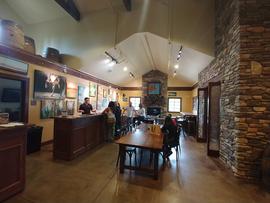 33515 Rancho California Road, Temecula, 951-676-6414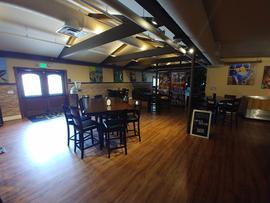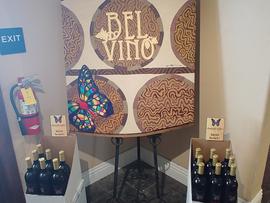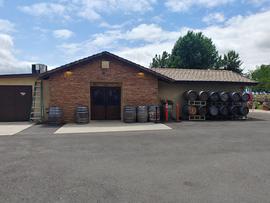 32575 Rancho California Road, Temecula, 951-699-0099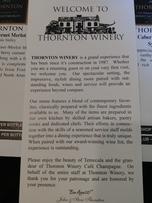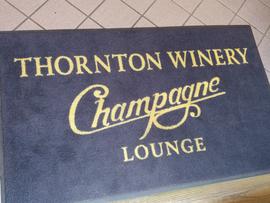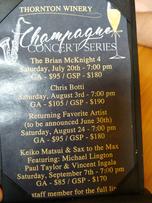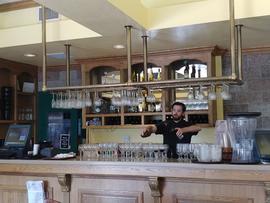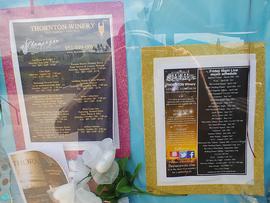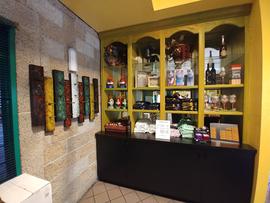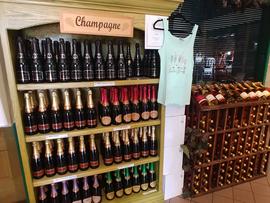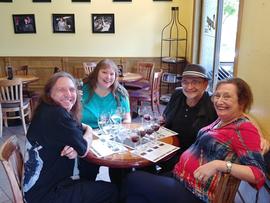 41300 Avenue Biona, Temecula, 951-676-6300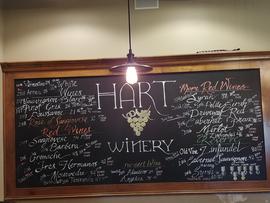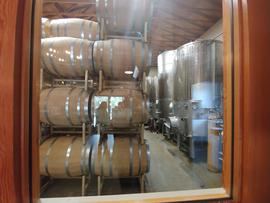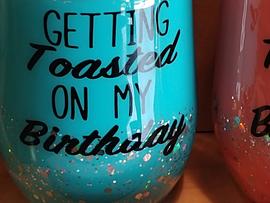 41720 Calle Cabrillo, Temecula, 951-308-1098
This was the next winery on our list and was one that even our driver, Shelley, recommended. Unfortunately when we went in they said they only do wine tasting by reservation and would not be able to provide a wine tasting for us. They did say we could purchase a glass of wine, but we really wanted to do a tasting. So, instead, we just left. It was almost time to drive back to Riverside anyway.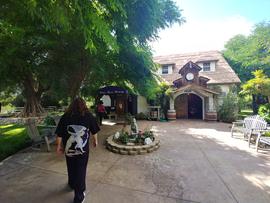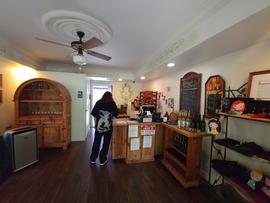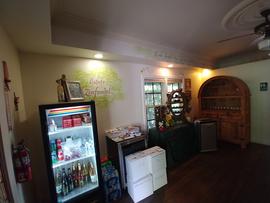 The Promenade in Temecula, 40820 Winchester Rd, Temecula
Since we had a few extra minutes, I decided that we should find the Tesla Supercharger in Temecula and add a few miles to the battery before heading back. I had visited the Temecula Tesla Supercharger before, I think a year ago or so, but I totally forgot that it is hidden away in the shopping center garage. We eventually found the chargers and plugged in. There were a few other Tesla vehicles charging, but there were also a lot of empty available charging spots. We only stayed for a few minutes and only added about ten miles to the battery. But, at least it refreshed my memory of where the chargers were located and I'll know where to find them on our next visit.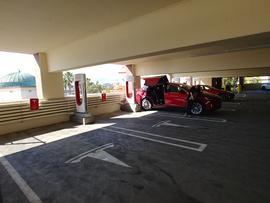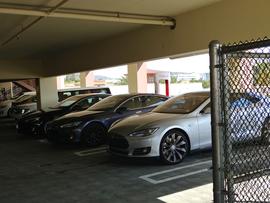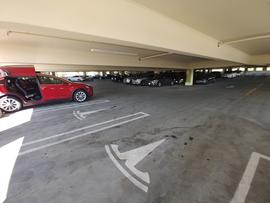 We departed Temecula at about 5 PM and were back to Scotty's apartment in Riverside by 6 PM. That was the end of the 8 hours that we had hired YourCarOurDriver for.
Click on each photo above for a larger image.
<<<MAIN PAGE &nbsp &nbsp MAIN PAGE>>>