Visit to New York City
May 1 - 8, 2019
<<<LATER TRAVEL &nbsp &nbsp EARLIER TRAVEL>>>
To see photos of the major New York City attractions CLICK HERE to read the report from our prior trip to New York City.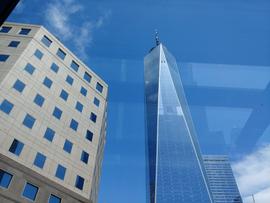 Click on each link below for reports and photos from each day:
My wife (Barbara Cepinko), myself (Steve Grande), and Cheryl Mack (Cher) went on this trip. The three of us previously visited New York City almost a year ago, June 6 - 13, 2018. At that time we visited most of the major tourist attractions including: Coney Island, Juniors in Times Square, Little Italy, Freedom Tower, Empire State Building, Stardust 50's Diner, Intrepid Sea, Air & Space Museum, Trump Tower, Statue of Liberty, Ellis Island, The High Line, and Chelsea Market.
We also spent a day with Small Bus Tours NYC. If you have never been on a tour of New York City, definitely book a tour with this company! They took us to see: The New Years Ball in Times Square (it is up all year), Bubba Gump Shrimp Company, the Garment District, the Flat Iron Building, a view of the Empire State Building, Washington Square Park, Little Italy, Chinatown, the U.S. Courthouse building, Manhattan Municipal Building, New York County Courthouse, a walk to the middle of The Brooklyn Bridge, Isamu Noguchi's Iconic Red Cube, Wall Street, the Charging Bull (Wall Street Bull), a ride on The Staten Island Ferry with views of the Manhattan Skyline and the Statue of Liberty from the ferry, views of Freedom Tower, The Two 911 Memorial Pools at the World Trade Center, Oculus Underground Shopping Center, Grand Central Station, a view of the Central Park Buggy Rides, Trump International Hotel & Tower, The Dakota Apartments where John Lennon lived and was killed, the Strawberry Fields John Lennon Memorial in Central Park, views of 432 Park Avenue (the tallest residential building in the world, third tallest building in the U.S., taller than the Empire State Building) and a view of Trump Tower.
In the evenings we also went to a number of Jazz Clubs including: Smalls Jazz Club in Greenwich Village, Smoke Jazz Club, and The Rum House in Times Square, among others.
For many photographs and reports from our prior visit to New York City, please click here to go to TravelRookies.net/2018f06a.html.
We didn't visit any of the tourist attractions that we visited on our prior trip to New York City other than to Liberty Island. But we went there again as we now had reservations to go up to the Pedestal of the Statue of Liberty which we did not do on our prior trip.
If you visit New York City you might want to visit some of the places and take some of the tours that we did on this trip and our prior trip. In addition to those attractions, below are some additional attractions you may wish to consider:
This is a list of some of the best Jazz Clubs in New York City that you may wish to consider (Recommendations found at Foursquare City Guide):
To see photos of the major New York City attractions CLICK HERE to read the report from our prior trip to New York City.
<<<LATER TRAVEL &nbsp &nbsp EARLIER TRAVEL>>>